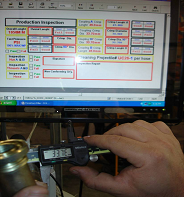 Digital Quality Inspection at every Step
Our hose assembly process is unmatched in the industry and utilizes state of the art technology to ensure that we can guarantee the proper form, fit, and function of our hose assemblies.

While we focus on continually training our personnel, digital comparison is performed throughout the process by "pass or fail" logic operators to ensure that the hose assembly technician does their job right every time. At left, our technician is measuring the crimp to ensure that the proper crimp diameter has been achieved.
Hydraulic Hose Cutting Station
A high quality hose assembly begins with achieving a precise cut length to ensure that the assembly fits the application properly and promotes a long service life.

Our assembly process includes both a digital measuring cell for low volume orders, and, an automated cutting machine for high volume production orders.
Either way, our process ensures that each hose meets our customer's expectations!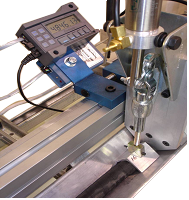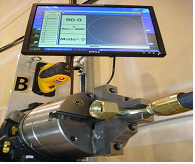 Fitting Orientation Station
Ensuring that both hose ends are oriented properly can be a very difficult task in a production environment. Precise orientation is very important to ensure long service life, especially in high impulse and continuous flex applications.

Our orientation station utilizes a rotary digital measuring device with visible feedback via a computer monitor to orient the crimp fitting to the exact position. After proper orientation is achieved, locator marks are made on the crimp fitting and hose to ensure that the fitting is crimped properly.
Hose Cleaning, Capping, and Ferrule Marking
The proper cleaning of hydraulic hose is also an essential
component of the process to ensuring long and efficient life of a hydraulic system. We utilize the Ultra-Clean System to achieve cleanliness levels as defined in the ISO 1310 specification. In addition, an electronic verification system is employed to provide positive feedback should a cleaning projectile not pass through the hose.

Instead of plastic caps, which can leave small plastic shavings in the threads of the crimp fittings that can make their way to sensitive components, we utilize the "clean seal" system that uses shrink capsules that are easily removed and leave no plastic residue behind.

In addition, we can mark hose ferrules with any text markings required by our customers to facilitate both part number tracking and spare parts replenishment.